Mount Kailash Kora Pilgrimage – a spiritual adventure in Tibet
What?
14 days pilgrimage that will take us through the Tibetan spiritual and cultural life, while getting in touch and meditating in its beautiful nature and combining Mount Kailash Kora (see the itinerary for detailed info)
When?
From the 3 October 2019 till the 16 October 2019
Where?
Tibet
How?
The closest airport is Lhasa Airport, transfers from and to the airport are included.
Participation?
2900 euro, scroll down for more info
Registration?
Until the 15th August the latest.
Important note: In order to enter Tibet you will need to apply for a Chinese visa and after you receive it we will acquire on your behalf the Tibet permit
---
Our Trip will be transcendental!
This trip is gong to transform the way you see and experience life. Different from other ordinary sightseeing programs because we are more focused on your side: visit various monasteries, get the experience of local people's lives and connect with nature and your Deepest spiritual essence, participating in the Mount Kailash Kora.
About the Mount Kailash Kora:
The age-old path around Mount Kailash Kora is one of the world's great pilgrimage routes and completely encircles Asia's holiest mountain. With a 5650m pass to conquer, this kora is a test of both the mind and the spirit.
There's some gorgeous mountain scenery along this trek, including close-ups of the majestic pyramidal Mt Kailash, but just as rewarding is the chance to see and meet your fellow pilgrims, many of whom have travelled hundreds of kilometres on foot to get here. Apart from local Tibetans, there are normally dozens of Hindus on the kora during the main pilgrim season (June to September). Most ride horses, with yak teams carrying their supplies. There are also plenty of Chinese tourists.
We guarantee your safety & enjoyment while travelling, having enough time to communicate with your guides and the other people but also to appreciate the natural scenery and have a direct experience of your natural state and thus feel peace and joy.
We understand you need a similar environment as you staying home, though the poor facility in Tibet, we will do our best to offer you hotels with 24 hours hot water, excellent locations, western style breakfast, and heating.
---
A message from The Travel Capsule
Welcome to all the adventurous souls, dreamers, travellers and friends!
The Travel Capsule is the "birth" of the free spirit, the adventurous soul and of a mind with the motto "I am realistic – I expect miracles to happen."
Nothing is impossible in this realm, and the most excellent adventures always begin from within us!The Travel Capsule is created to give us the opportunity to see world's most beautiful places and phenomenon.
The Travel Capsule is looking to get the chance to enjoy and connect with purity, nature and other people; To contemplate about life's miracle and infinite possibilities; To experience the unity that exists in this world and of course the most important to have an adventure, inner and outer!
Important: Please take time to read all of the information provided in this text.
---
Program:
Day 1: arrival in Lhasa either by air or train and meet with your guide
A short flight into Tibet give you a panorama of the snowy Himalayan ranges or the days of train ride over the high plateau by crossing mighty Thangu la ranges. It gets you to Lhasa with beautiful scenery along the route, your arrival at the Gonggar airport or Lhasa Train Station will be greeted by our Tibetan guide and driver and transfer to your hotel in Lhasa city. From the airport to Lhasa it is about 60km and it takes less than an hour through the recently built highway. From the train station it is only 25km and it takes about half hour, check in the hotel and may be meet with other fellow travellers, then take it easy for the rest of the day to acclimatise and alleviate the jet lag. Overnight in Shambala Palace or Kyichu hotel.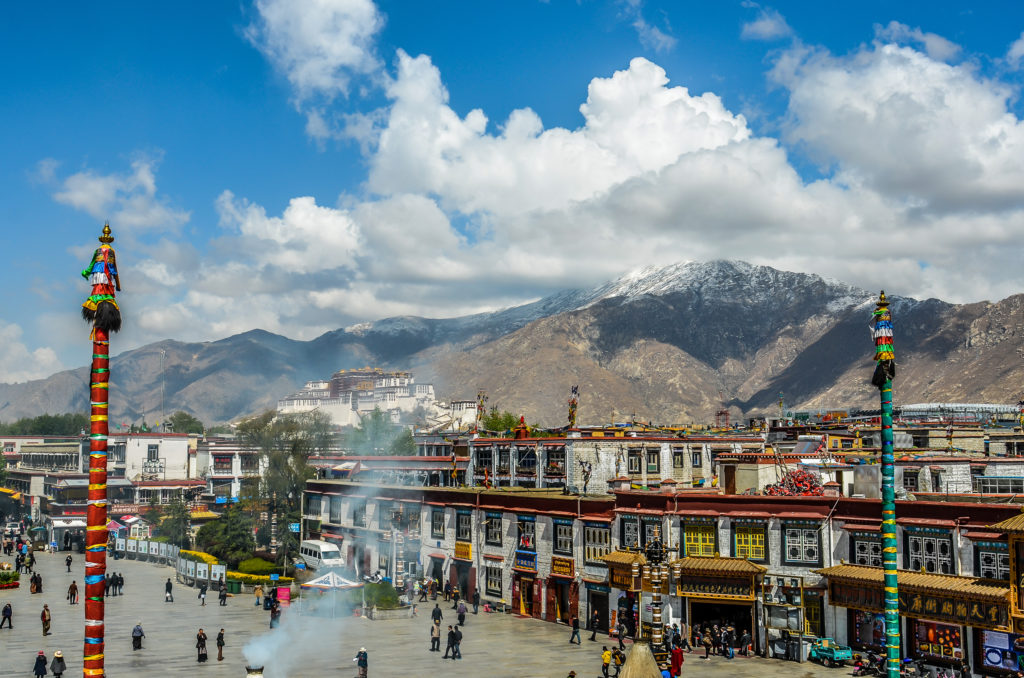 Day 2: Lhasa escorted tour
Attractions: Jokhang temple and bustling Bakhor street and Sera monastery.
Today is your first day on the high plateau and some of you may have little headache which is very common for travellers by the high altitude. So drinking enough water and mild activity on the first few days is recommendable. In the morning, our guide will meet you at the hotel and take an easy visit to Jokhang Temple in the center of the Old Lhasa city. Jokhang temple is one of the most sacred temples in all over Tibet and it is always bustling with earnest local pilgrims since from early days.
After that you have time to walk around the Bakhor street which is one of the most devotional circuit as well as crowded central market of Lhasa. During the old days it was the most famous local market but now it is changed to tourist gift shopping center. In the afternoon, we will visit the famous Potala Palace, the cardinal landmark of Tibet and the masterpiece of Tibetan architecture. It was first built by 33rd King Songtsen Gangpo in 7th century and later in 17th century rebuilt by 5th Dalai Lama. Since then it was home to the Dalai Lama and his government. Walking though the long steps are quite challenging but it is worthwhile to leave your footsteps in the spiritual palace of God of compassion, which listed in the world heritage in 1994. Overnight in Shambala Palace or Kyichu hotel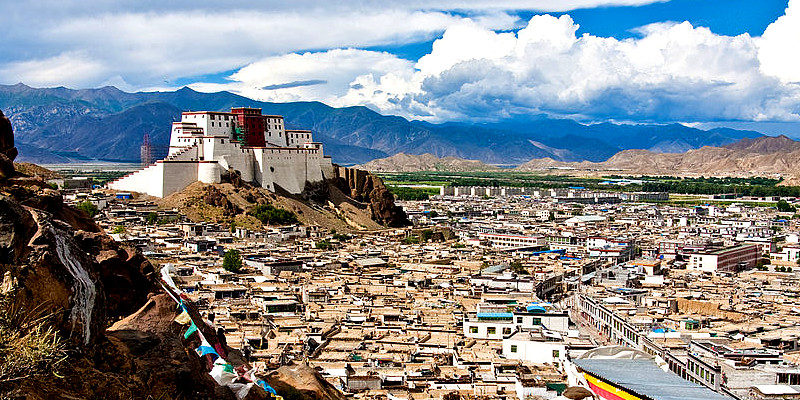 Day 3: Lhasa escorted tour.

In the morning , we shall drive up to Pabongka from where you will have view of Lhasa city and after visiting the temple, you shall head up to do a short hiking up to Sera Utse and will spend the whole morning there. After doing 2-3 hour hiking , you will have lunch break and then drive to Sera monastery. The amazing day will ended with a visit to the Sera Monastery, it is built in the fifteenth century by the Jamchen Choji Sakya Yeshi who is disciple of Tsongka pa, few different monastic colleges in Sera is home to several hundred monks from different part of Tibet, the famous Buddhist philosophical debates among the monks are happening every day in the afternoon except Sunday. Continues acclimatize and alleviate jet lag rest of the day. Overnight in Shambala Palace or Kyichu hotel.
Day 4: Lhasa(3600m) – Gyantse (3900m) – Shigatse(3900m), 350 km
Attractions: Yamdrok lake, Mt.Nyechen Kangsar glacier, Gyantse Kubum stupa and Pelkhor Choede monastery.
We start driving towards south west, through the zigzag road climb up the Kampa la pass (4700m). From there you will be amazed by the breathtaking glimpse of the holy Yamdrok lake with its turquoise colour and snow caped Mt.Nyenchen Khangsar in the distance. Then continuing driving along the lake for few kilometres, get us to the lunch stop at Nagar tse. The rest of the day will be spent enjoying the many magnificent valleys and exquisite Tibetan villages that pass through; en route we will stop at Karo la (5150m) to see the holy mount Nyenchen Kangsar glacier.
Arrival at Gyantse, we visit Kumbum stupa and Palkhor Choede monastery. This magnificent multi-door structure is the largest stupa in Tibet, it is not only well known for its architecture, but also its old sculptures and paintings all around its inner walls. Late afternoon we will drive to Shigatse which is only 90km. Overnight in Gesar hotel.
Day 5: Shigatse (3900m) – (4200m)- Sakya 150 km
Attractions: Tashi Lhunpo monastery and Sakya monastery.
Today we will visit Tashi Lhunpo monastery in the morning and guide will make his/her time to obtain the ATP permit from the local PSB. Tashi Lhunpo monastery is one of the largest functioning monasteries in the western part of Tibet which has more than 600 years of history, it is a different experience by walking with local pilgrims through temples and twisted lanes within the old buildings in the campus. Then drive to Lhatse for the night, en route we will drive off the main road to Sakya monastery which is located in a small village. This area and monastery has a different architectural design and colour. Sakya monastery was an important scholastic study center in the 13th century and under the leadership of Sakya Pandita Kunga Gyaltsen, Sakyapa ruled Tibet for decades during that period of time. Overnight in Sakya hotel.
Day 6: Sakya (4200m) – Saga (4500m), 340km
Attraction: Grass Land, Nomad tents , lakes
Today we will drive straight to Saga through a long valley of Brahmaputra tributary. In comparison to the last few years, the road condition is much better as it is recently reconstructed and paved. You will have an opportunity to witness the nomadic life along the way there and you shall experience some beautiful lakes too. Overnight at Saga in Norling hotel.
Day 7: Saga – Darchen (5000m), 520km
Attractions: View of Lake Manasarovar and Mt Kailash.
Today the thrilling journey across the dry and vast plain with stunning views of great Himalaya in the south and Trans-Himalayan in the north. The moonscape plain of the region is home for sparse lone nomads whose lifestyle remains close to what it has been for centuries, and numbers of plateau wild lives. Different natural landscapes like sand dunes and picturesque mountain views are not only the great beauty of the day but also the holy lakes and mountains. Then we will reach to the Manasarovar Lake (victorious lake) in the late afternoon, which is one of the holiest lakes in Tibet and every year it receives hundreds of hundreds of pilgrims from all corner of Tibetan plateau, India and Russia.
The lake is surrounded by several prominent peaks like Gurla Mandata (7760m). Then we will further drive to Darchen which is the starting point of the Mt Kailash (7762m) trekking, you will also have great view of the Kailash from the front. Darchen is a small nomadic village and now increasing number of guesthouses and restaurants make it more commercial. At your arrival you have plenty of time to explore around the town and prepare for the trekking, you can also hike around the hills to get physically ready for the trekking. In the afternoon, your guide will arrange other trekking necessities like porters and yaks for your luggage transportation. You can find different restaurants according to your taste or your guide will help you to find some better ones. Overnight in Guest House.
Day 8: 1st day mount Kailash Kora trekking to Tirapuk . 20km.
Attractions: the views on the both side of the valley that you are going to trek.
Today our trekking starts from Darchen and tracing the small trail in the clockwise circuit around the Peak on an average altitude of 4700m. You will encounter numbers of local Buddhist pilgrims along your way and several Bon believers in the anti-clockwise direction. After 4hours trek we will reach to Tamdin(4780m) where a nomadic tent serves simple lunch and boiled water. From there it is only 4km to Dirakpuk monastery but between this stretches are some of the best scenery of the entire Kora. Dirakpuk was rebuilt in 1985 located on the north side of the Lha-chu River facing to the north face of the Mt. Kailash. Dirakpuk name originally comes from a word Dira that means female yak horn and Puk means cave that in a mythical story says a female yak opened the cave. Overnight at Dirapuk guesthouse.
Day 9: 2nd day of mount Kailash Kora trekking to Zultul Puk (4790m) 18km.
Attractions: the once and only chance of challenging to cross the Dikpala (5000m) and Dormala (5600m) next to Dikpala.
Today is the most challenging part of the trekking where we will cross two passes, though there are not too steep but the altitude makes it more tiring and slow. After we cross Dikpala (5000m) & Dormala (5600m), the passes are remarked by heaps of prayer flags and cairns. It is worthwhile to spend some minutes on the pass to view and relax, as you are right backside of the Mt. Kailash and offers great view of the holy peak. Then we will climb down into the long valley and stop for lunch at Shabjay Dakpo nomadic tent for lunch. Zuktul puk monastery (4790m) also calls the miracle cave that is built by two religious figure Milarepa and Naro Bonchung. And still you can see the footprint and handprint of Milarepa inside the cave. Overnight at Zultul Puk in Guest House.
Day 10: last day of mount Kailsh Kora trekking and drive to lake Manasarovar. (12km trekking and 80km drive
Attractions: close view of the Manasarovar lake and Thuktso lake.
Today is an easy day trek to complete the circuit. Your driver will pick you up from Tashi Do (which is also called Dzongsar). Then driving continues to Lake Manasarovar and overnight at guesthouses near the lake.
Day 11: trace the road back to Saga
Today we will trace the road back to Saga for the night
Day 12: Saga – Shegar (5150m – 300 km)
As we leave, we will have opportunity to witness the beautiful Pikutso lake and also Himalayan peaks such as Mount Shishabangma, Mt Everest, Mount ChoOyu along the way to Shegar. And this can be one of the best drive of your trip and you shall stay at Shegar which is 100 KM away from Everest Base camp.
Day 13: Shegar – Shigatse – Lhasaa, 240km+ 270km
Today we will drive back to Shigatse and as you arrive Shigatse , you shall take train to Lhasa and you will be picked at train station by another car and then driven to your respective hotel. Accommodation in Shambala Palace or Kyichu hotel.
Day 14: Lhasa airport/train station sends off

Today our guide and driver will send you to the airport or train station and it is time to say your good bye and depart to your next destination.
---
The spiritual seminar by Northern Deer
LIFE IS A SPIRITUAL JOURNEY
There is no way to separate a trip, a journey to a faraway country without having a spiritual experience. For such a big trip the spirit and the intention are huge as well!!
Our attention is to enjoy life, expand our awareness and self-knowledge, become excited from our experiences which will lead to be more alive and also learn something important and valuable in the way that we can carry with us, inside us, in our memories in our actions and in our hearts. Also our purpose in this journey is to experience these transformative moments as consciously as we can so that this trip will not be only an excellent memory but a way to remember our selves and return back reborn! The spirit under which we operate and the presence of a spiritual teacher together with us during all days ensure that the energy of our experience will be many times deeper than what is the external journey and activity!
Furthermore, in this trip, we will connect with ancient knowledge and global wisdom of ancient worlds one of which is the world of the Tibetans that we will be visiting. So the opportunity presents itself to have a great spiritual Journey and pilgrimage!
We will have interesting talks, topics of transformation of the different parts of our lives (health, relationships and the psychological aspect of how we experience our daily lives)

Introduction to the spiritual culture of Tibet (Tibetan Buddhism). You will be able to explore the simple basic spiritual principles of Buddhism under which the Tibetans live. Who was Buddha?

What was his teaching? How can one be benefited from it in his/her life? Meditation and techniques of meditation and contemplation coming from Buddhism.

Study of the Buddhist Six Realms of Desire and Samsara.

Study of Mandala of Kalachakra

Spiritual Healing workshop

Tarot Cards Ritual for the empowerment of your life and receive direction

Ritual of healing of your ancestors – "cleansing of your Family Tree"

Shamanic knowledge and ancient wisdom for daily living. We will study the knowledge of shamans of the Tibetan tradition. Furthermore we will focus on the most interesting and relevant topics that connect different civilisations in this universal experience.


Drum Ceremonies and meditations – Shamanic Journey "Kamlanie" where you will learn to connect with the so-called spirits of the world of the shaman.
Also, there will be possible for those who want to have an individual consultation or session with Alexander – Northern Deer without additional cost
We would like you to have in mind that this travel is not only an adventure but also a time to relax, to feel happy and to flow with life.
The participation for Trip in Tibet is as follows:

3 participants excluding leaders : 2900 euro per person
4 participants excluding leaders: 2670 euro per person
5+ participants excluding leaders: 2560 euro per person
Included:
All travel permits for Tibet

Spiritual seminar under the guidance of Northern Deer Alexander (www.theworldofwisdom.com)

English speaking Tibetan tour guide

All transportation in Tibet as per the itinerary ( Private tourist vehicle )

Administrative fees

All meals and accommodations for your driver and guide

Vehicle tolls and vehicle repairs (if necessary)

All lodging listed in the itinerary with daily breakfast

Entrance fees for the places listed in the Itinerary

One time welcome meal for the group

Mineral water, shared Oxygen tank in car

Potter during Mount Kailash Kora trek: Potter is a local Tibetan that will assist you by carrying your bag pack during the Mount Kailash Kora trek. This way you can travel lighter and at the same time provide the locals with income and support the local community.

Not included:
Visa to China (Around 100€)

Lunches and dinners (Around 12€ per day and per person)

Tips to the Guide and the Driver

International round-trip flight from your country to Lhasa Airport

Horse during Mount Kailash Kora Trek: around 200 euro for the whole group, we will divide this price amongst us

Personal expenses (laundry, souvenirs, etc)

Sleeping bag: bedding is provided everywhere and during Mount Kailsh Kora. Please bring with you a light sleeping bag to use underneath for hygienic reasons.
How To Register:
CONTACT US AND RESERVE YOUR TRIP

To enrol, please send us an email by clicking on the button above saying that you want to participate. Registrations available till 15th August 2019 the latest.

To reserve your place, we will ask you for a 30% deposit of the package cost (nonrefundable). More details about the deposit will be sent to you after you'll email us that you wanted to participate).

The total cost for the travel adventure has to be settled one month before the trip (until the 1st September 2019), according to the hotel policy.

As soon that you'll have booked your air flights, please send us your air-flight confirmation and details. Please DO NOT book your air flights before contacting us to discuss the details and then you can proceed with the booking.




The Air-Flights:

You will have to book a flight to Lhasa Airport, of course, we can assist you.
Arrival: Tuesday, 3 October 2019
Return: Monday, 16 October 2019
Important Information
– PLEASE READ –
Please come with an open heart and an innocent spirit for an adventure. Try to let go, relax, and flow with life. We would like to have a spontaneous experience, of course, there would be a program to keep things rolling. Please embrace the unknown and everything that it will bring blessings to our way.

Valid Travel Insurance in Tibet: Please take caution so that you have one, as we will be asked during our reservation to provide all necessary information.
Passport: You need to have a valid passport with minimum six months before the expiration date on the 1st day you arrive in Tibet.
Visa arrangements: You must have a valid Visa for entering Tibet. Please contact us for relevant info and we will guide you how to issue one.